Proclaim 15 building missionary parishes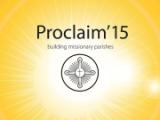 About Proclaim 15 : The Proclaim 15 initiative is a response to Pope Francis' Apostoiic Exhortation Evangelli Gaudium, in which he writes: " I wish to encourage the Christian faithfull to embark on a new chapter of evangelisation marked by this joy, while pointing out a new path for the Church's journey in years to come".
There are three meetings to attend at All Saints School, Granville Road, Sheffield on Saturdays 23rd April. 2nd July and 26th November, 09.30 hrs to 12.30 hrs.
The three meetiings will tackle :
What is meant by evangelisation and why it is important today
What is Proclaim 15, and how it can be readily developed in the local parish community.
Learning from the experience of parishes setting up local evangelisation projects.
If you want to find out more about proclaim 15 there are lots of resources available using this link :
http://catholicnews.org.uk/proclaim15-resources