Ampleforth 2009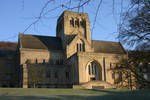 Ampleforth Retreat 3-5 April 2009
This was a weekend two nights residential retreat. The theme was 'The Passion - Story of the Gospels' and Dom Henry Wansborough OSB who is a world-renowned scripture scholar and a member of the Ampleforth Community gave talks which were easy to understand, informative and interesting.
The accommodation and food was good quality and all meals were provided. The total cost was £100 per person.
The Grounds of Ampleforth are massive and ideal for walks etc. There was opportunity to attend all the daily office services and to actually sit alongside the monks in choir whilst they prayed them. There is plenty of time for people to visit local places of interest including the pub in Ampleforth Village.
Ampleforth is 20 miles north of York and the car journey from Stocksbridge and Penistone takes about 90 minutes.